Aquarium School Visits
A visit to the National Marine Aquarium is a great way to spark the imagination of your students. Our breath taking exhibits provide the perfect environment for emotive animal encounters, and applied curriculum learning.
In line with government guidelines, we have developed a Schools Day Visit package which will allow your students to return to the National Marine Aquarium for a fully hosted day with a member of our Schools Team.
The NMA Schools Day Visit package is available on weekdays all year round during term-time and includes:
A 90-minute tour of the exhibits within the National Marine Aquarium
A 90-minute workshop of your choice, featuring an OCT Virtual Reality Experience
Exclusive access to the Learning Centre for your students, including private toilets and bag storage
A private, indoor lunch space
Designing your day
To help keep everyone safe during your visit, we are operating a set programme for School visits, and have put in place some restrictions on our programme availability.
We can allow a maximum of ONE SCHOOL per day.
We can allow TWO CLASSES per day.
We are unable to offer Explorer entry to the Aquarium. All visits will be based on the timetable below.
| 10:00 | 10:30 – 12:00 | 12:00 – 12:30 | 12:45 – 14:15 |
| --- | --- | --- | --- |
| Group 1 | Tour (2 x 16 Students) | Lunch | Workshop (1 x 32 Students) |
| Group 2 | Workshop (1 x 32 Students) | Lunch | Tour (2 x 16 Students) |
Tour
During the Tour element of your day, the class will be split into two halves. Each half will be taken around the Aquarium by a member of our Schools Team.
Workshop
We are able to offer a choice of two different workshops for the Aquarium School Visit package. Please see below for further information about both options.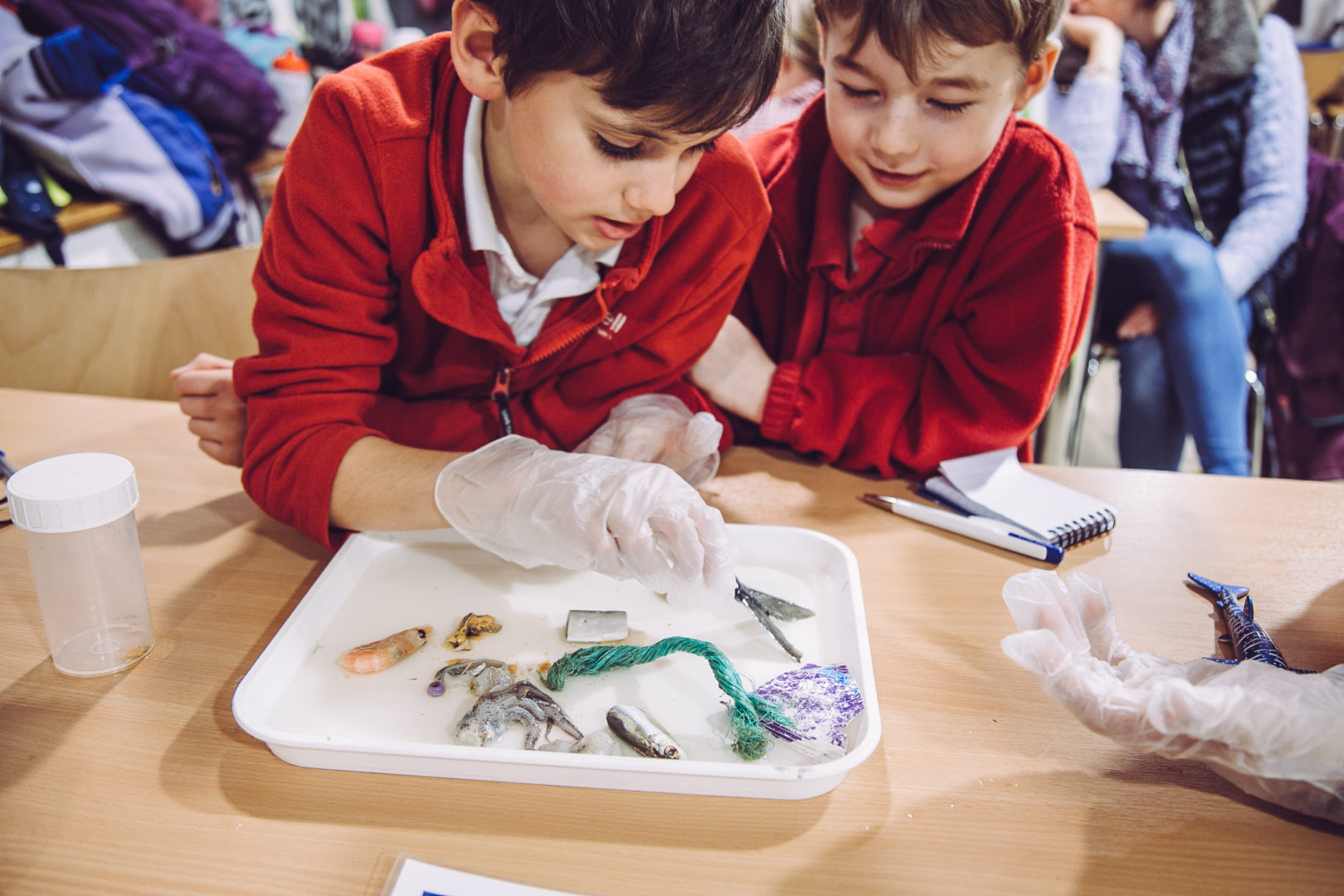 Plastic Seas
Investigate the stomach contents of an Ocean creature and find out what we can do to help care for the Ocean. The original OCT plastic pollution experience. An ideal blend of curriculum and conservation-based learning.
Inventafish
Is there such a thing as the perfect fish…and can you make it? This curriculum linked, art-based workshop promotes observational skills, creativity and problem solving as students strive to combine all the days' learning in a single, super-species.
Prices
Student tickets are £8.00 per person.
Adults are free at set ratios depending on student age:

EYFS & Key Stage One. 1:3 students

Key Stage Two. 1:7 students

Keys Stage Three and up. 1:10 students

Individuals providing one-to-one support in the classroom are able to accompany their learner free of charge.
Risk Assessment
A standard risk assessment of our programme, as well as a list of covid specific ammendments relating to this experience are available on request.
Book now
To arrange your Aquarium Schools Visit, or find out more, contact our Learning Team at learning@oceanconservationtrust.org or call us direct on 01752 275 233
The National Marine Aquarium (NMA) is the UK's largest aquarium, located in Britain's Ocean City, Plymouth. It is run by the Ocean Conservation Trust, a charity dedicated to connecting people with the Ocean.
Find Out More