AN AFTER-HOURS QUIET EVENT FOR FAMILIES WITH SENSORY NEEDS.
As the largest Aquarium in the UK, we are dedicated to not only providing a captivating underwater experience but also ensuring that everyone feels welcome and included. This is why a few times a year we open our doors for a special two hour event after hours that allows families and people with autism, dementia and other sensory needs to enjoy our exhibits without the noise and distraction of our daily shows.
Visitors will be able to explore all of our exhibits without the normal daytime crowds, a more relaxed lighting, screens turned off and no daily shows, so the focus is truly on our amazing animals and the environment around you. The event is for people with autism, dementia and other sensory needs
We have two events to choose from:
Sensory Sessions – For families and people with sensory needs
Ocean Memories – A dementia friendly evening
Dates 2023
14th August – Sensory Sessions: 17:30-20:00
18th December – Sensory Sessions: 17:30–20:00
21st September – Ocean Memories: 16:00-18:30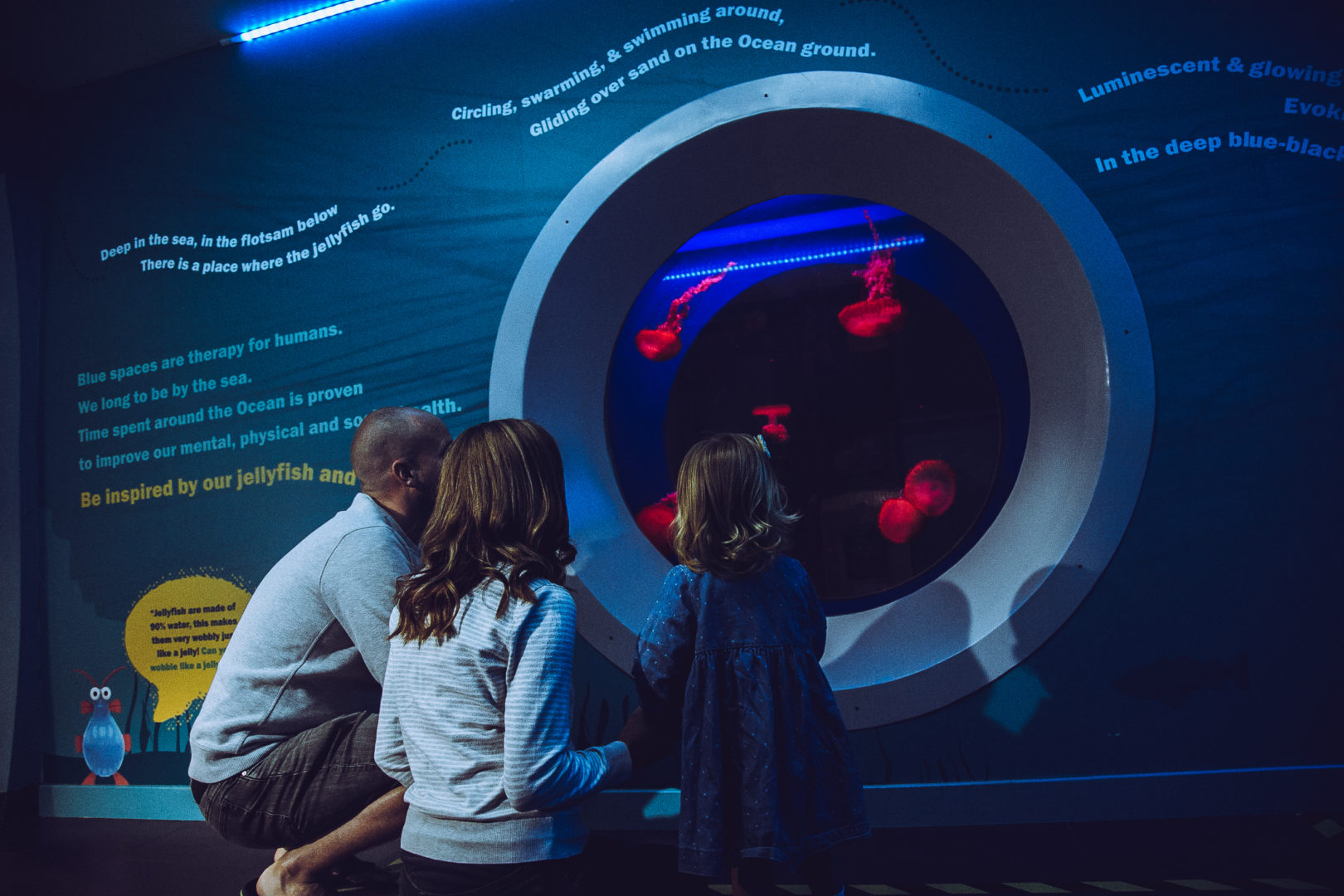 Book now
We're proud to say this educational activity has been accredited Bronze by BIAZA.
Let's come together to celebrate the beauty of our Oceans while ensuring that everyone feels welcome and included. We look forward to welcoming you and your family to Quiet at The Aquarium!
Terms and conditions:
Tickets are non-refundable.
This event is for families or people with sensory needs or dementia only (please see event specific details). Please note that due to the range of sensory needs of other families attending this event, we cannot guarantee that the Aquarium will be quiet throughout the evening.
Annual return passes are not valid for these events.
All children under 16 must be accompanied by an adult.
Please note that our Waves Café and Ocean Gift Shop will be closed for this event.
Quiet at the Aquarium will be running between 5:30pm – 8:00pm Last Admission is at 7:00pm. Please plan your visit accordingly. Please use our Functions & Events entrance for this event (pictured below)
Join the Quiet at the Aquarium Mailing List
Join our mailing list to keep in the know with the latest Quiet at The Aquarium evenings! Enter your details below and we will let you know about upcoming dates so you won't miss out.