Join us this Half Term for the launch of Megaquarium – a game for Xbox One, Nintendo Switch and PS4 inspired by none other than the NMA!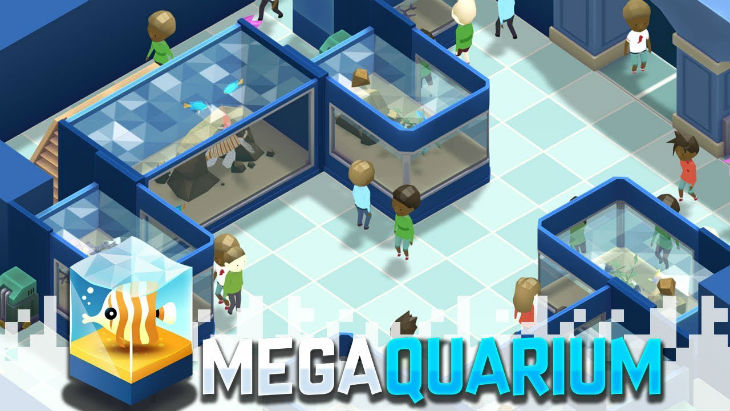 22nd October 2019
This Half Term, join us for the chance to be one of the first to play Megaaquarium – a brand new aquarium management game which is now coming to Xbox One, Nintendo Switch and PS4 – and was inspired by none other than the NMA!
Megaquarium – a classic tycoon game with an aquatic twist – enables players to create their very own aquariums, starting with just a few tanks and the most basic of livestock and building up to a metropolis filled with a multitude of different Ocean animals, each with their own unique care requirements, and will be available for visitors to play throughout the day on Thursday, 24th October in front of our Atlantic Ocean exhibit.
Created by Tim Wickstead at Twice Circled – an independent Bristol-based games studio, the game was inspired after its creator spent the day visiting the National Marine Aquarium in Plymouth. With the help of his experienced Aquarist partner, he was able to bring the game to life on PC. Megaquarium has been a huge hit on PC and it is now being published to games consoles with the help of Auroch Digital.
Players can design the layout of their aquarium and create attractive displays, as well as learning how to care for over 100 different marine species – from corals and crustaceans to sharks and jellyfish. They will also be tasked with recruiting the right staff for each department – from Animal Husbandry to Front of House – in a bid to create their dream Aquarium.
As players progress through the game, the aquarium will begin to attract visitors – with the main challenges being to take care of the animals, keeping things running smoothly both front and back of house, and continuing to make money as a visitor attraction.
Marcus Williams, our Assistant Curator, says: "We're really excited to be hosting the launch event for Megaquarium, and are delighted to hear that the game was inspired by our exhibits here at the NMA.
"There is a great deal of work that goes into managing an aquarium, particularly behind the scenes, where our dedicated Husbandry team spend hours per day working hard to ensure that our animals are all kept happy and healthy and attending to their every need.
"Megaquarium is a great way for budding marine biologists or animal husbandry experts to get a feel for what it takes to keep things running smoothly – as well as how to keep things ticking over front of house and ensure that all customers have memorable experience – something our teams work hard to deliver on a daily basis here at the NMA."
We're excited to have the game returning to us after serving as the inspiration for its creation, and as well as giving visitors the chance to play the game throughout the day this Thursday from 10am – 4pm, there will also be a live screening happening here at the NMA from 5pm – 6pm onwards, in celebration of the game's launch – which will be available to watch on Auroch Digital's Mixer channel(https://mixer.com/AurochDigital).
The game launches on PlayStation 4, Nintendo Switch and Xbox One on Friday, 18th October and will be available to purchase from the estores for each console.
Nintendo switch – 10% launch discount. Get Megaquarium for £17.90. Get it here.
Xbox One – 10% launch discount. Get Megaquarium for £17.99. Get it here.
PlayStation 4 – Due to a pricing error this is currently £15.99 for a limited time only! Usual price is £19.99. Get it here.