International & Language Schools
The National Marine Aquarium is the UK's largest public aquarium, with thousands of visitors from all over the world enjoying our exhibits every year. Whether your students would like the opportunity to explore independently, take part in an Interactive Tour with a member of our Discovery & Learning team, or even take a closer look at the Aquarium as a business.  There's an option to suit everyone!
Entry Options:
International and Language Schools can take advantage of two different Entry Ticket options. Costs are based on a group size of 12 or more students.
Explorer Visit £5.25 per student (£6.25 during UK school holidays)
A self guided visit to the Aquarium, your students will have access to the whole Aquarium and to the full programme of public shows, talks and feeds.
Please book and pay for all Language & International School Explorer visits online HERE.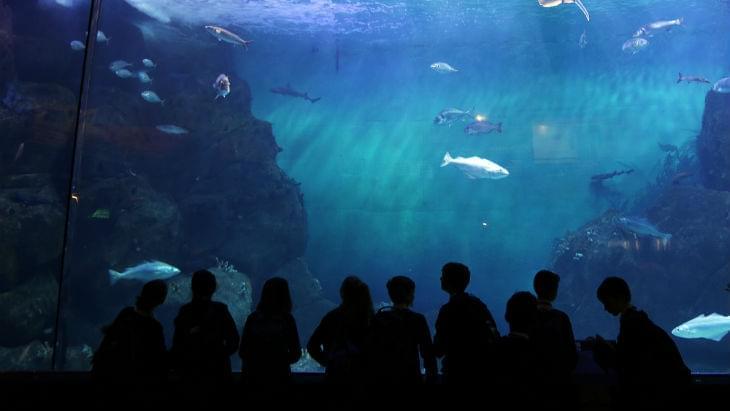 Interactive Tour £6.00 per student (UK term time only)
Each Aquarium tour is tailored to meet the needs of your students and current programmes of study. Select a Tour option below to find more details.
| | Explorer Visit | Interactive Tour |
| --- | --- | --- |
| Entry to the aquarium | ✔ | ✔ |
| Free Teacher Pre-visit | ✔ | ✔ |
| Risk assessment | ✔ | ✔ |
| Coach drop-off | ✔ | ✔ |
| Meet & Greet | | ✔ |
| Bag Storage | | ✔ |
| Lunch space | | ✔ |
| 2 hour tour (English language) | | ✔ |
*-Limited availability during busy periods
Adult prices & Ratios
Free accompanying adults are welcome with all school groups within the following ratios:
1:10 free adults
Free additional adults in a full time 1:1 classroom support role
Extra adults at £6.50 each (above ratio)
Additional information for group leaders
The following downloadable documents provide additional information that may be helpful in organising your visit to the National Marine Aquarium:
To discuss a booking, or for further information contact us now using the form below, email us at learning@national-aquarium.co.uk, or call us direct on 01752 275 233