We found Dory, and here's what we thought…
16th August 2016
The long anticipated sequel to the well loved Disney Pixar film Finding Nemo has now been released in cinemas in the UK. Finding Dory was immediately a huge success in the Box Offices and became the 11th ever animated film to reach $300million, but smashed all records by doing it in an incredible 12 days (Toy Story 3 took 18days). At the time this blog was written, the gross income was just north of $800,000,000- must be something pretty good about it.
Here at the National Marine Aquarium, we asked a number of our staff what they thought of the film. There were of course a huge number of opinions to collect as, three days after the release of the film, twenty-five professional adults descended eagerly upon the nearby cinema.
There are many a positives to take away. If you're thinking about going to watch it, I'd definitely recommend. Quite simply, it's enjoyable. There are the much loved Nemo, Marlin and the ever so quirky Dory, plus a whole host of new and entertaining characters. Plus the adventures they get up to this time around are fun, if not a little crazy. However, is there anything deeper? We really hoped there would be. Our philosophy at the Aquarium follows the Learn, Love, Act mentality. Learning leads to loving. Loving turns into acting. Acting makes a difference. So how does the Finding Nemo and subsequently Finding Dory realte to our aims at the National Marine Aquarium.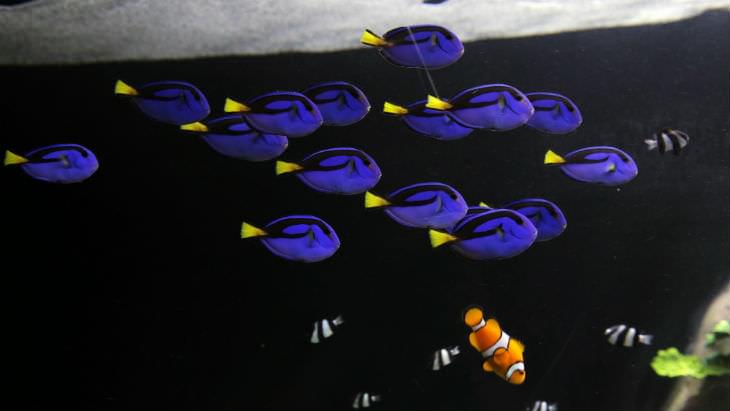 There is the opportunity for a whole lot of learning. By 2006, Finding Nemo had been bought 40million times, so the opportunity in Finding Dory to put across an inspiring conservation message to a huge number of people was there for the taking. As enjoyable films they must spark interested amongst the youngest generation. Seeing the excitement in children's faces as they charge forward to see our new Finding Dory tank is a pure pleasure to witness. You'll be hard pushed to find a person who can not identify a clownfish, or point out the 'Dory-fish'. And how many hearts does an Octopus have? I think it said the answer three times in the film- it's three!! So there are signs that knowledge has been accrued as a result of the film; with in excess of 5000 different species of fish on the Great Barrier Reef, it's no surprise that clownfish and regal tangs are the best known.
Learning leads loving. And yes, we most certainly loved Nemo and I am sure we will all love Dory. However, the message in Finding Nemo was pretty clear- 'Don't collect fish from the reef to put in your home aquarium'. Yet shockingly, a huge uptake of home aquariums were installed with 'Nemo' as the centre piece. This may not be a problem if they were sustainably sourced, but a whopping 90% of all clownfish pet sales are taken straight from the reef! Clownfish are now locally extinct in places they were once thriving.
This is a worrying trend and one we hoped Finding Dory would amend. It is thought that in excess of 99% of all Regal Tangs in captivity have been taken from the wild. There has been only one documented success in breeding this species in captivity, particularly in home aquariums. This means every time someone has one in their home, there is one less on a coral reef. Methods for collecting the animals are usually pretty poor. Cyanide is used as an anaesthetic to make the animals drowsy before indiscriminately scooping them all up. As I'm sure you can imagine this does not work wonders for the reef.
I truly hope the ambitions of Finding Nemo were not to rid the natural world of all clownfish, so it would appear that people acted in an unexpected way. So what could we do instead? We certainly do not want to ban you from keeping fish at home. But keeping them in the correct way is important. In the same way that we would recommend a bag for life or choosing MSC seafood to eat, maybe have a think about the fish you put in your tank?
Okay, so what else is there? Touch pools. One of my favourite scenes in the film was Dory and Hank the Octopus trying to escape the plunging hands of the children in the touch pool. Despite many aquariums around the world supporting the idea of touch tanks, we as an organisation are adamantly against it. This scene must prove why we have acted this way. With research backed studies showing that animals live far shorter lives in touch tanks, there is not enough justification to inflict this on a living creature.
In terms of Aquariums in general, the messages were a little blurry. Some animals did not seem like they were happy in an aquarium. On the other hand, Hank was doing his best to get in an aquarium. There were Whale Sharks (not a whale, but a species of shark) and Belugas, Manta Rays and Sunfish all kept in the building. Do animals that grow this large, or roam thousands of miles need to be on display? Of course the idea in the film was that all these animals needed Rescuing, Rehibilitating and then Releasing. The three R's according to Sigourney Weaver. We do not release animals here. For us it isn't a possibility. But that shouldn't put us in the 'bad' Aquarium category. We are a conservation charity. Our mission is to 'drive marine conservation through engagement'. And what an incredible place to do it. Take, for example, our Loggerhead Turtle, Snorkel.
Snorkel, found on a beach in 1990 is unlikely to survive in the wild, so she lives here. She is an ambassador for her species, speaking out on behalf of all the Loggerhead Turtles out there, waving the flag for all those without a voice. 300,000 people, including 30,000 school children see Snorkel every year, and she is without doubt a crowd favourite. I reckon she has to be the most photographed animal in the South-West. The messages we as an aquarium can spread, thanks to the help of animals like Snorkel, will ripple out through the crowds we speak to. Whether it's the use of plastic bags, choosing sustainable seafood or helping you decide if you are going to buy your brand new Dory Fish or not, the animals in our care allow us to convey these messages. Learning leads to loving. Loving to acting. Acting helps our planet.
Finding Dory is a great film and highly entertaining. The interest, passion, knowledge and empathy generated for marine creatures champions that of most animated films. So watch the film and learn what it has to offer. I hope you do love it as there are some brilliant characters and many parts are highly entertaining. But please think about your actions. There are many beautiful fish that would be suitable for home aquariums. Perhaps think about whether one of them needs to be a Regal Tank.