Special Education Needs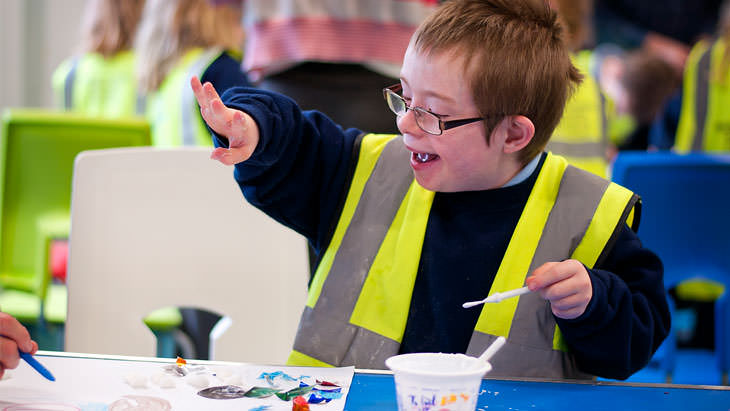 All of our SEN sessions have been designed with teachers to be as flexible as possible, to ensure that each group gets a session suited to their needs. If you don't find a programme that is applicable to your students, please get in touch and we will be pleased to create a bespoke session for your group.
Our Magical Seas
National Curriculum Attainment Targets (KS1/2): P levels 5 to 8
2 hour or 3 hour sessions
Our Magical Seas is a perfect session to introduce your students to the wonders of the marine environment, from our local waters to more tropical habitats. With the help of our team, the students will journey through the Aquarium to discover the variety of life beneath the waves.
This session links perfectly with the Science, English, Geography and Art elements of the National Curriculum.
Aquatic Art
National Curriculum Attainment Targets (KS1/2): 1 to 8
2 hour or 3 hour sessions
Inspire and engage your students during this interactive session. Our team will lead you around the different marine habitat zones to experience the colour, pattern, texture and shape of our eye-catching aquarium inhabitants! Each student will have their own paper and clipboard along with a selection of art materials; from pencils to easy grip, chunky crayons (please feel free to bring any particular favourite materials for individual students).
Sensory Seas
P Level Attainment Targets: 1 to 4
2 hour session
Especially developed for those with PMLD
Introduce your students to the sights, sounds, textures and smells of the marine world. We will guide you around the Aquarium using the most wheelchair friendly route. In each of the zones the students will be able to experience and enjoy the variety of colour, shape and size of the moving animals, as well as handling a selection of unusual marine artefacts.
Life Skills
Use a visit to the Aquarium as a chance for your students to practise their Life Skills and perhaps encounter situations that they have never experienced before. With our knowledge of the layout of the building we will encourage the students to plan how they would like to make their way around the aquarium. This visit will include a behind the scenes visit to identify safety signs and demonstrate listening skills and appropriate behaviour.
As part of the learning experience, you may like the students to bring some spending money for Waves Café or our Gift Shop.
Create Your Own Session!
If your class has a special interest or you are embarking on a new project (or you just don't fancy any of the sessions above), then please get in touch and we will happily discuss your requirements and create a session that is just right for your group.
Submit an Enquiry