Media Centre
The National Marine Aquarium is the UK's largest aquarium dedicated to education, conservation and research.
The Press Department exists to facilitate journalists' enquiries about the Aquarium and to help provide access to the wealth of information and knowledge regarding marine conservation. The Aquarium has experts in the fields of marine life, marine conservation and education who are available to act spokespersons on a wide range of related topics.
Filming at the Aquarium
The Aquarium wants your visit to be successful. To ensure that you get all the images, interviews, etc. that you require please contact the Press Department.
Press Releases
9th August 2017
Celebrate the summer with the National Marine Aquarium's Ocean Squad
---
6th August 2017
British Firework Championships!
---
27th July 2017
The National Marine Aquarium joins global #OurOceans campaign
---
13th July 2017
Splashtacular Summer! The National Marine Aquarium goes to Infinity and Below
---
6th July 2017
Endangered Short Snouted Seahorse discovered off Devon coast
---
Image Library
For high resolution images please contact the Press Department using the details above.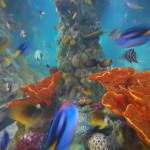 Sign up to receive Press Releases
If you would like to receive press releases from the National Marine Aquarium, please complete the form below:
Thank you for signing up to receive our press releases.